Sewing machine will be unlocked at level 19. You have to pay 4.500 coins and it takes 20 hours to build.

---
You can make the following products: cotton shirt, wooly chaps, violet dress, pillow and blanket.
---
Introduction
Nice dress, fancy wooly chaps and a warm blanket are one of the products you can make. Some are easy and some are pretty difficult or take so much time. The sewing machine is definitely a challenge. You need 4.500 coins to build it. The machine is very colourful and compact. Its nice to see when the machine is sewing, all the moving parts are awesome.
When you mastered your sewing machine some parts are turn into gold and the round sign on top of the blue ball is turning into a star. The surface from the blue ball is changing into a more wool ball.
---
45min / *** 34min
241

/ 29

1h30min / *** 1h16min
309

/ 37

2h15min / *** 1h54min
327

/ 39

---
3h / *** 2h33min /
676

/ 81

3h30min / *** 2h58min /
1.098

/ 131

---
Upgrading
When you buy the loom you will get 2 slots for making your products. Each extra slot will cost you 3 extra diamonds. The 3rd slot cost you 6 diamonds the 4th slot cost you 9 diamonds until you reach 9 slots. In total you will have to spend 105 diamonds.
---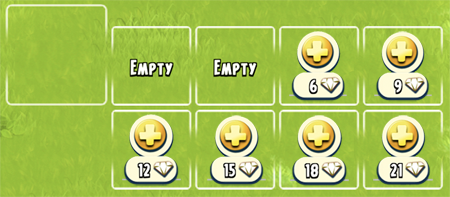 Some of the products you can make with the sewing machine are very challenging. Blankets are the most expensive items when you want to buy them. Making blankets is very time consuming, you need 5 duck feathers.
---
Focus Points
Truck and boat orders are asking almost all products you can make in the sewing machine. Make them and keep them on stock;
When you can hire Tom for a day or more ask pillows and blankets so you don't have to make these;
Grown enough cotton because you need them for all products in the sewing machine;
Downside is that you need lots of duck feathers for pillows and blankets.

---
---
Bakery / Feed Mill / Dairy / Sugar Mill / Popcorn Pot / BBQ Grill / Pie Oven / Loom / Sewing Machine / Cake Oven
Mine / Smelter / Juice Press / Lure Workbench / Ice Cream Maker / Net Maker / Jam Maker / Jeweler
Honey Extractor / Coffee Kiosk / Lobster Pool / Soup Kitchen / Candle Maker / Flower Shop / Duck Salon
Candy Machine / Sauce maker / Sushi Bar / Salad Bar / Sandwich Bar / Smoothie Mixer / Pasta Maker
Hat Maker / Pasta Kitchen / Hot Dog Stand / Taco Kitchen / Tea Stand

---